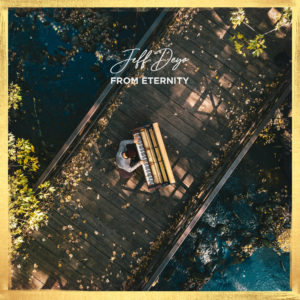 Get Jeff's New EP Now!
December 11, 2020 UPDATE: The wait is over. You can now stream Jeff's new EP (with 5 beautiful, fully original instrumental compositions) everywhere you stream music; Apple Music, Spotify, Amazon Music, YouTube, and more! Listen and share it today.
November 27, 2020 UPDATE: Try something different! Yep, the new Deyo EP "From Eternity" is available to purchase on Crowd Music for $5 at CrowdMusic.com. Just follow these simple steps below. (**Not only can you listen to Jeff's new EP on the CrowdMusic app, but you can also listen to thousands of other artists too. Even more exciting is the fact that Crowd Music is the only music platform that PAYS IT'S LISTENERS to share their favorite music!
INSTRUCTIONS:
ADD TO CART: BUY JEFF'S NEW ALBUM NOW: << Click on the link and add Jeff's EP to your cart. Then go to your cart to check out.
JOIN: At check out, when prompted, SIGN UP for a new Crowd Music account using Jeff's

referral code

97edd970
COMPLETE PURCHASE: You can now listen to the MP3's, but it works best to download the Crowd Music App and listen there.
GET THE APP: Download the Crowd Music app after purchasing Jeff's new EP (see step 1), and then start enjoying it!
LEARN MORE: What is Crowd Music?
FIND & SHARE NEW MUSIC: Once you login to the App, you can start building your CROWD by using your own SHARE CODE to find and share new music with friends.
GET PAID: Share music with others. When they sign up and love, make, or share music using your SHARE CODE, your CROWD grows. You get $.10 on the dollar for the referral and every referral or purchase made by your CROWD, forever. An active CROWD proves to reward $60k per 1000 fans!
Years In the Making
Jeff's parents started him with piano lessons when he was six, and he continued with his classical training through his days at Wheaton College and Anderson University. During his time at Anderson, he wrote many songs, including an instrumental piano song, entitled "Awakening," that he took on the road with the group Witness in the summer of 1991. This was the beginning of something special that would culminate 29 years later with the release of his first ever instrumental piano EP, From Eternity. Enjoy the ride as you take the journey with Jeff over the years.
"From eternity to eternity I am God.
No one can snatch anyone out of my hand.
No one can undo what I have done." Isaiah 43:13
"From Eternity" songs

:
Yearning
Awakening
Remember
Living Water
From Eternity
Jeff has been releasing music for years but is often recognized globally for his work as the former lead singer of the Dove Award-winning group Sonicflood. He is the impassioned voice behind classic worship songs like "I Could Sing of Your Love Forever," "In the Secret," and "Open the Eyes of My Heart." As Sonicflood's lead singer, primary songwriter, and co-producer, Deyo saw the band's gold certified, self-titled debut album (1999) and its Grammy-nominated follow-up, Sonicpraise (2001), reach combined sales of over a million. Subsequently, Deyo released four more acclaimed worship recordings, "Saturate," "Light," "Surrender," (Live), and "Unveil." "Moving Mountains," his fifth and newest full-length worship album (2012), blends pop rock sounds with soulful grooves and striking melodies, enriched by meaningful lyrics and modern congregational expressions in songs like "We Delight," "Rescue Me," and "Eternity," as well as the salient title track. He also regularly contributes original songs to the most recent NCU Worship Live recordings "Glory to God," "Hearts on Fire," "Always Remain," "Breath of Heaven," including singles like "You Will Be Our God," produced by Deyo for North Central University.