Jeff's Brand New Master Class!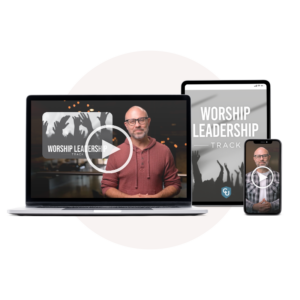 50+ Training Videos on Worship Leadership
It's unbelievable! Jeff has partnered with Leaders.Church and Church University to create a comprehensive worship leadership video course that will move you, your teams, and your church toward becoming the Kingdom ministry God designed you to be. With 12 modules and 57 12-18 minute videos, this course is designed for pastors, worship leaders, worship team members, and anyone who is passionate about instilling biblical culture into their people and their services. It is an incredible resource that will help you grow in your anointing, your leadership, your passion, your authenticity, and your hunger for God, and it can easily be viewed with your worship team or your small group over several weeks. CLICK TO LEARN MORE NOW!!!
Spark: A Comprehensive Worship Leadership Handbook
It's finally here! This is a life work from Jeff that has been in preparation for 15 years. It is a powerful resource designed to help worship leaders and church leaders develop the culture of the Kingdom in their churches by empowering their teams and their congregation to grow into mature followers of Christ. This book will touch your life and will help you lead with humility and boldness. Every Jesus-following singer, musician, and leader needs a copy. Available now!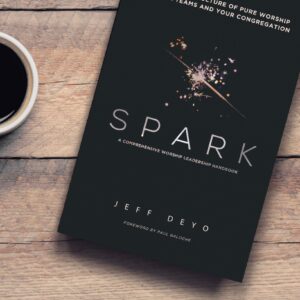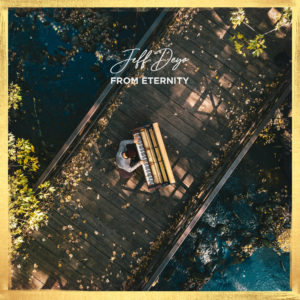 From Eternity Instrumental Piano EP!
It's never been done before. In all the years Jeff has been releasing music, he has never gone back to his roots to share the beautiful instrumental piano songs he's secretly been writing. It's true. This release has been in the works for years, and the time has finally come to go public. These songs will sooth your soul. Streaming everywhere!
Awakening Pure Worship Book!
Jeff Deyo invites you into a conversation about pure worship in a book that was written for anyone seeking to know the Lord in a deeper way.   Wherever you shop for books online!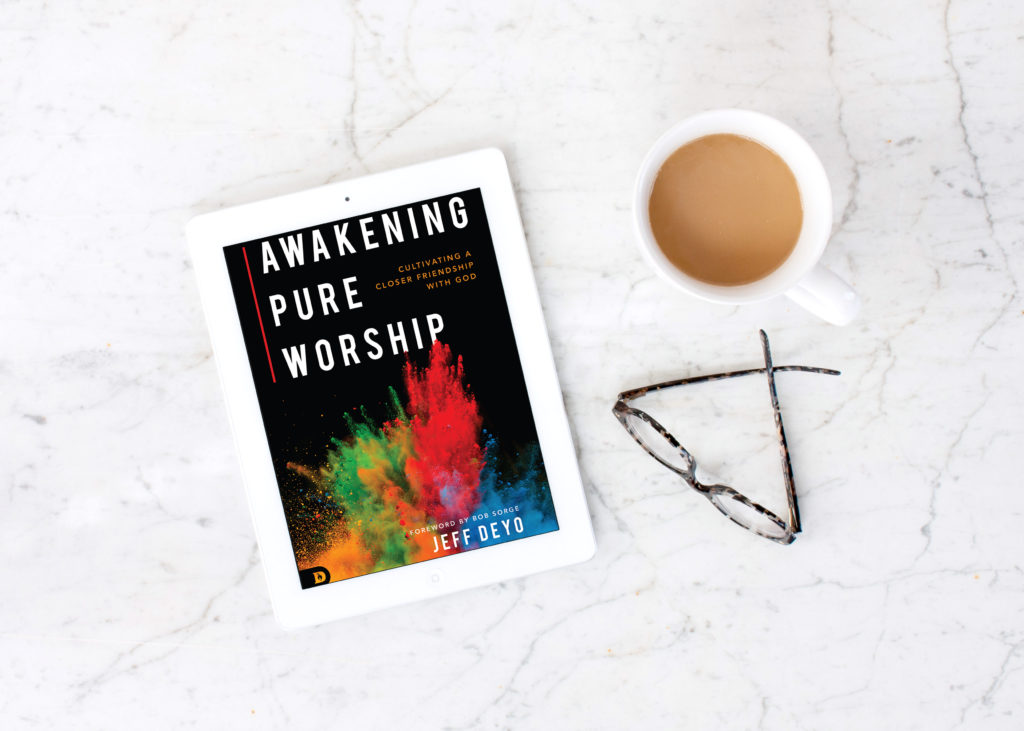 Jeff Deyo is first and foremost a proven and faithful worshiper. He's cultivated his love affair with Jesus for over four decades. As President of North Central University, I have had a front row seat when it comes to experiencing his voice and leadership. Not only is Jeff's music and worship second to none, his teaching and seasoned maturity is exactly what this next generation of worshipers need. His new book, Awakening Pure Worship, is a beautifully written convergence of his personal and professional worship life. Once you read it, I promise you'll quickly get copies for the people you care about.
Scott Hagan | President, North Central University
We are called to live a life of worship, which goes far beyond the twenty minutes we spend singing on Sunday. My friend, Jeff, is an amazing man of God and he lives the life of a true worshiper. In his new book, Awakening Pure Worship, you will be challenged to live a lifestyle of worship that will invite the presence of God into all areas of your life.
John Bevere | Author, Minister, Founder, Messenger International
Jeff Deyo lives what he writes. He has modeled a love for God, for people, and a passion to equip the church for over two decades. Awakening Pure Worship is an excellent resource to stir your heart toward Jesus as you explore the 'why, what, and how's' of biblical worship expressed in the modern age. Read it!
Paul Baloche | Worship Pastor, Songwriter
We have ten thousand worship leaders but few worship fathers. Jeff carries the heart of a true father and shepherd that will jump off these pages as he speaks honestly to worshipers, worship leaders, and worship musicians. Thank you Jeff Deyo for leading us so well.
Jon Egan | Executive Worship Pastor, New Life Church
Jeff Deyo is one of those down-to-earth, refreshing guys. His heart for Jesus is real. And His fascinating stories will cause you think, 'Wow, we truly have a crazy opportunity to worship God.' His book does a fantastic job of deconstructing many of the modern ways we cripple authentic worship. Yet, it's uplifting. He writes as though you're going on a walk. This book will truly cause you to break out of your preconceived notions of worship into a fresh encounter with God. It's a perfect book to take your walk with Christ to a new level. I'm so glad I took the time to read it.
Peter Haas | Lead Pastor, Substance Church, Minneapolis, Minnesota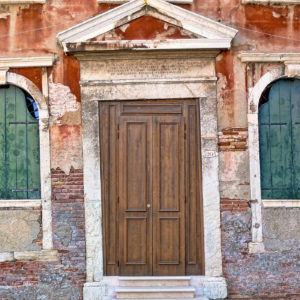 Religion Is Not Bad!
By now you may be on to my tactics. You most certainly have recognized that I enjoy taking things we think we know and turning them on their head. But don't get too out of sorts. This isn't one of those blogs where the writer attempts to reel everyone in with a "shock and awe" title. This blog is attempting to hit on a subject where we've actually missed the boat. Completely.
How often have you heard someone say something like, "Christianity is a relationship, not a religion?" Or "Whatever we do, let's not be religious!" Or "It was ultimately the religious leaders who crucified Jesus."
I'm not suggesting that these statements are entirely wrong, but I have realized we need to take another look at religion, because we might just be throwing the baby out with the bathwater. Again…