Awakening Pure Worship Book!
Jeff Deyo invites you into a conversation about pure worship in a book that was written for anyone seeking to experience the Lord in a deeper way.  
Just released in stores & online everywhere!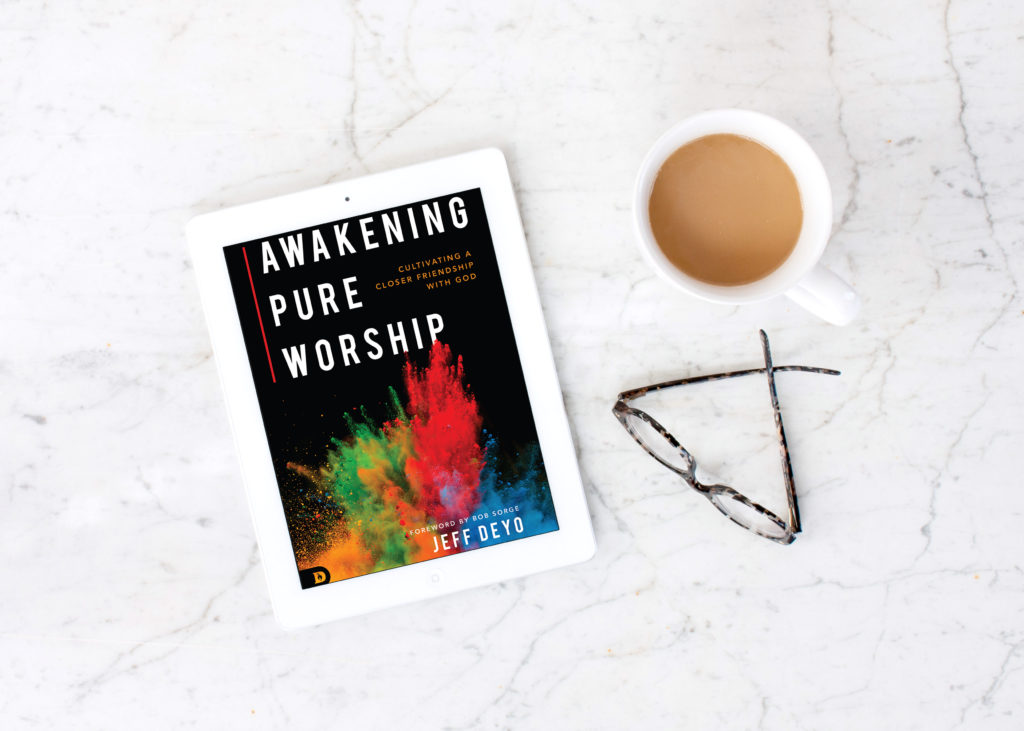 Jeff Deyo is first and foremost a proven and faithful worshiper. He's cultivated his love affair with Jesus for over four decades. As President of North Central University, I have had a front row seat when it comes to experiencing his voice and leadership. Not only is Jeff's music and worship second to none, his teaching and seasoned maturity is exactly what this next generation of worshipers need. His new book, Awakening Pure Worship, is a beautifully written convergence of his personal and professional worship life. Once you read it, I promise you'll quickly get copies for the people you care about.
Scott Hagan | President, North Central University
We are called to live a life of worship, which goes far beyond the twenty minutes we spend singing on Sunday. My friend, Jeff, is an amazing man of God and he lives the life of a true worshiper. In his new book, Awakening Pure Worship, you will be challenged to live a lifestyle of worship that will invite the presence of God into all areas of your life.
John Bevere | Author, Minister Messenger International
Jeff Deyo lives what he writes. He has modeled a love for God, for people, and a passion to equip the church for over two decades. Awakening Pure Worship is an excellent resource to stir your heart toward Jesus as you explore the 'why, what, and how's' of biblical worship expressed in the modern age. Read it!
Paul Baloche | Worship Pastor, Songwriter
We have ten thousand worship leaders but few worship fathers. Jeff carries the heart of a true father and shepherd that will jump off these pages as he speaks honestly to worshipers, worship leaders, and worship musicians. Thank you Jeff Deyo for leading us so well.
Jon Egan | Executive Worship Pastor New Life Church
Jeff Deyo is one of those down-to-earth, refreshing guys. His heart for Jesus is real. And His fascinating stories will cause you think, 'Wow, we truly have a crazy opportunity to worship God.' His book does a fantastic job of deconstructing many of the modern ways we cripple authentic worship. Yet, it's uplifting. He writes as though you're going on a walk. This book will truly cause you to break out of your preconceived notions of worship into a fresh encounter with God. It's a perfect book to take your walk with Christ to a new level. I'm so glad I took the time to read it.
Peter Haas Lead Pastor | Substance Church, Minneapolis, Minnesota